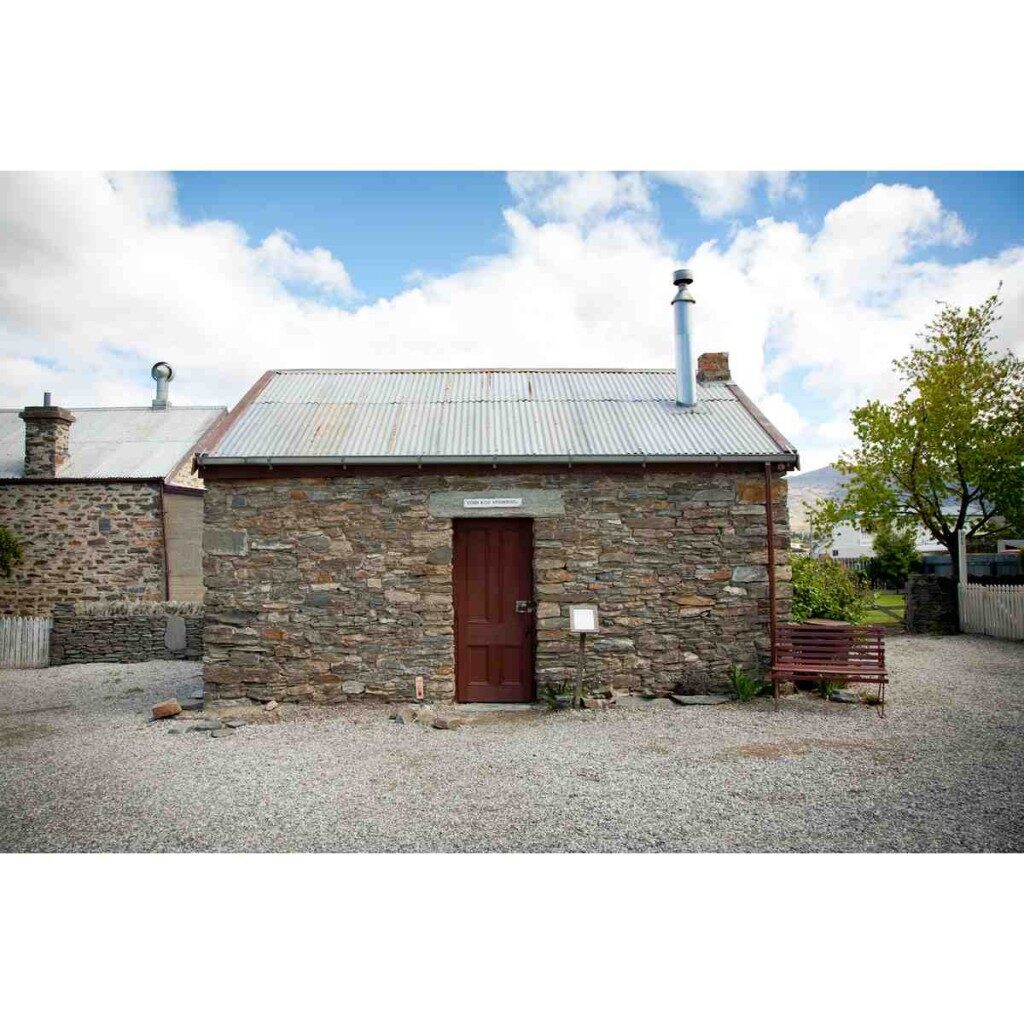 Built in 1866 from local "schist" stone this building was used as a storeroom for the safekeeping of goods by Cobb and Co, an Australian coaching company which came to New Zealand at the beginning of the gold rush era. The coaches would travel up from Dunedin and break their journey at Cromwell either overnight or to collect a fresh team of horses before travelling on to Queenstown or Wanaka. This building was situated just over the bridge at the start of Melmore Street opposite the Junction Commercial Hotel.
Cobb & Co was started in 1853, the "roaring fifties" in Victoria, Australia by four Americans – Freeman Cobb of Brewster, Massachusetts; John Murray Peck of Lebanon, New Hampshire; John B Leavenworth of Kansas; and James Swanton of Omar, New York.
They became well known to the travelling public for reliability, punctuality and speed of their coaches. The coach interiors were upholstered in crimson plush velvet with the outside panels painted red with floral and gold ornamentation. The business had several owners, became syndicated, and linked with privately owned coaches which became known collectively as Cobb & Co.
When gold was discovered in Otago, Charles Carlos Cole of Ballarat saw a golden opportunity for Cobb & Co in New Zealand and, on Friday the 11 October 1861, the first coach left Dunedin for Gabriel's Gully near Lawrence.
Mr C Cole had "guessed and calculated" a trip of nine hours more or less – which was a vast improvement on the usual two days' journey on horseback from Dunedin to Lawrence.
The discovery of gold by Hartley and Reilly at Brewery Creek in the Cromwell Gorge in 1862 brought a huge influx of people to the area. A road was completed in 1864 from Clyde through the Cromwell Gorge to the south bank of the Clutha River. Cobb & Co coaches then used the ferries to cross the river and reach Cromwell. The first vehicular bridge to Cromwell was opened in 1866.
By 1867 Cobb & Co had three trips a week between Dunedin and Queenstown. By 1877 the coach left Cromwell at 5am in morning, reaching Lawrence the same day and Dunedin at 11am the next morning. Wagons and drays took a week or longer. The coach service continued until the arrival of the train service to Cromwell in 1917. Cobb & Co coaches ran for a few years after this before finally bowing to the new age of steam travel. The building was demolished, stored and later reconstructed on its present site using the same stones.
The Little Picnic Company is now in the Cobb & Co